Siem Reap International Airport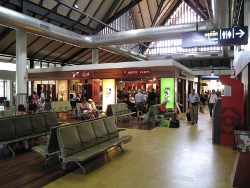 Siem Reap International Airport at a Glance
IATA Code:
REP
Web Site:
Cambodia Airports
Distance to City:
6 km
Passenger Service Charge
Domestic:
US$6
International:
US$25

Cambodia's second international airport is the gateway to the world's largest temple complex, the Angkor Wat Archaeological Park. Siem Reap's small airport is only a few minutes from town. The IATA airport code is REP. You can see Cambodia Airports for more information.
The passenger terminal is all on one level, with arrivals side-by-side with departures.
The new terminal building was opened in late 2006. Outside, there are a number of nice areas for waiting if you're early for your flight. There's even a very nice local coffee shop where you can get a caffeine fix as well as a snack.
The departure area is quite nice, with some hardwood floors, warm colors and a few good shops.