Samui International Airport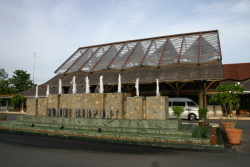 Samui Airport at a Glance
IATA Code:
USM
Web Site:
none
Distance to City:
8 km
Passenger Service Charge
Domestic:
N/A
International:
400 Baht
(11,940.30 USD)

Samui's award-winning airport was built and is serviced mainly by Bangkok Airways flying from Bangkok, other parts of Thailand, and Singapore. There are flights between Samui and Bangkok more or less hourly from early morning until about 10:00 pm in the evening.
The unique design of the airport features a distinctly tropical open-air design with what passes for thatched-roof huts serving as terminal buildings. The buildings are arranged around an open garden with palm trees and other local plants. It's no wonder that so many people rave about this airport.
In 2007 the airport underwent a significant expansion that saw the addition of several more gates and a new international departure lounge. The expansion was complimented in 2008 by the addition of a full-fledged shopping arcade that connects the check-in building with the departure halls. The arcade features many well known Thai and international fashion brands, as well as several food outlets. If you're in a hurry, don't worry, there's an electric cart service that will whisk you past all the shops to the departure lounges.
Note: Keep in mind that there is a 400 Baht (11,940.30 USD) departure tax for international flights payable at Samui airport.
For detailed information about what to see and do around the island, see the Thailand for Visitors Samui Guide.