Changi International Airport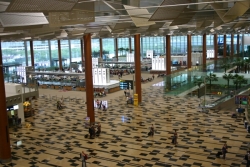 Changi International Airport at a Glance
IATA Code:
SIN
Web Site:
Changi
Distance to City:
20 km
Passenger Service Charge
Domestic:
None
International:
None

Singapore's Changi Airport, like the city, is a modern and efficient international airport. The international airport code for Changi is 'SIN'. Like most airports, the departure hall is above the arrivals hall. There are currently four terminal buildings. Terminal One is used by most international airlines, while Terminal Two is used almost exclusively by Singapore Airlines. Terminal Three opened in 2008 and a new Terminal Four is due in 2017.
The three main terminal buildings are linked by an automated train, both on the 'land side' and on the 'air side' secure area. It is also possible to walk between the two terminals within the departure area. Note that, since Changi is (more or less) the only scheduled airline airport in Singapore, there are no 'domestic' departures.
Terminal 3, opened in early 2008, is mostly used by Singapore Airlines for flights to North America and Europe, but other airlines use it as well, notably India's Jet Airways. The new terminal is joined to the old ones via the same automated train system. See the Terminal 3 photo gallery for more pictures of the new building.
For more information about Changi Airport, see www.changiairport.com.