Hotels & Accommodation Near Siem Reap Airport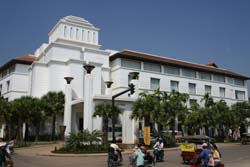 The Hotel de la Paix, the current darling of the 'in' crowd.

There is no "airport hotel" at Siem Reap Airport, but with the town only 6 kilometers away, you can easily stay at any hotel in the city and be no more than 20 or 30 minutes away. Our hotel partners specialize in Asia's most popular 2-star to 5-star hotels and resorts, and offers the guaranteed lowest rates for advance hotel room reservations.
Recommended Siem Reap Hotels
Here's a short list of a few hotels for you to consider for your stay in Siem Reap, that you can book on the internet through at least one of our hotel partners. If you don't like our selections, you can browse our complete list of Siem Reap hotels, which you can also view by price or class.

Stars
Hotel Name
Location
Rate


Angkor Hotel
Siem Reap Central Area
From: $ 30
This property can be found in the city of Siem Reap, just minutes away from some of the area's more popular attractions. Visitors staying in the Angkor Hotel Siem Reap will also find a number of shopping centers, restaurants, and entertainment venues surrounding the hotel. Guests staying in the Angkor Hotel Siem Reap can reach the Siem Reap International Airport in 10 minutes if traveling by car. A total of 193 comfortable units can be found in the Angkor Hotel Siem Reap. These units have been gracefully designed and outfitted with a variety of amenities to help make each stay more (More...)
Check rates for the Angkor Hotel at Agoda.
Compare rates for the Angkor Hotel at all on-line sites using HotelsCombined.
Note: Unless otherwise noted, the descriptions shown here have been provided by the hotels. You may wish to treat them with some degree of skepticism. The base prices shown are provided by hotel booking sites and reflect the lowest rate they have on file. This is often the 'low season' rate for a standard room, and thus may not be available at the period you visit. The starting price should be used as a general indicator only.