Hotels & Accommodation Near Siem Reap Airport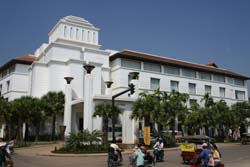 The Hotel de la Paix, the current darling of the 'in' crowd.

There is no "airport hotel" at Siem Reap Airport, but with the town only 6 kilometers away, you can easily stay at any hotel in the city and be no more than 20 or 30 minutes away. Our hotel partners specialize in Asia's most popular 2-star to 5-star hotels and resorts, and offers the guaranteed lowest rates for advance hotel room reservations.
Recommended Siem Reap Hotels
Here's a short list of a few hotels for you to consider for your stay in Siem Reap, that you can book on the internet through at least one of our hotel partners. If you don't like our selections, you can browse our complete list of Siem Reap hotels, which you can also view by price or class.