Chiang Mai International Airport
Chiang Mai International Airport at a Glance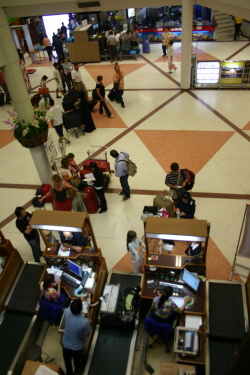 IATA Code:
CNX
Web Site:
AOT
Distance to City:
4 km
Passenger Service Charge
Domestic:
None
International:
None

Chiang Mai's airport is rather small, but very busy since Chiang Mai is a very popular destination for both Thai and foreign tourists. There are now two terminals: the new international terminal joined the old terminal building in 2007. The old building is now for domestic flights only. The entire airport is on just two levels. The arrivals hall and check-in for departures are both on the ground floor. All departure lounges are reached through the second floor.
The old domestic terminal is currently undergoing a massive makeover, which will probably not be complete until some time in 2009. The re-fit has so far seen the entrance to the departure lounges shift around a bit, as well as the baggage claim area.
When departing Chiang Mai, you can easily get to the airport using a taxi or hotel transfer service. Note that you and your bags must pass through a scanner to get into the airport building. Check-in counters for all flights are located at the south end of the ground floor. After checking in for your flight, you can take the escalators up to the second floor to access the departure lounges. Note that if you are flying on an international flight, or a Thai Airways flight connecting directly to an international flight in Bangkok, you will need to go through immigration in Chiang Mai. Immigration and the international departure lounges are accessed through the new international terminal. After checking in on the ground floor, proceed up the escalators to immigration, then on to the departure lounge.
For information on all the sights and experiences of the city, see the free on-line Thailand for Visitors Chiang Mai travel guide.