Kuching International Airport, Malaysia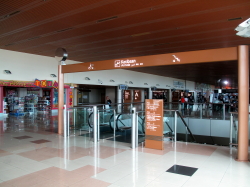 Kuching International Airport at a Glance
IATA Code:
KCH
Web Site:
MAH
Distance to City:
11 km
Passenger Service Charge
Domestic:
None
International:
None

Kuching International Airport it Sarawak's main air hub, connecting the huge state to Peninsular Malaysia, Sabah and some international destinations. The airport terminal was given a radical makeover, completed in 2008, which makes it one of the most modern in Malaysia.
The renovations borrowed a lot of design features from Kuala Lumpur's new airport, so the two have a similar look, even though Kuching is much, much smaller than KLIA. The airport is built on three levels:
The arrival hall, with baggage claim, customs and transportation services is on the lowest level.
The top-most level of the airport is used for checking in for departing flights and passport control.
The mezzanine in-between the two floors is the main concourse level. On the public side, there are only airline offices, but on the secure air-side this is where all the shops and food and beverage outlets are located, as well as the gates.