Komodo Airport, Labuan Bajo, Flores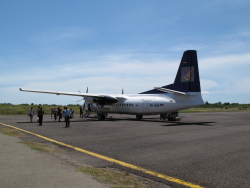 Komodo Labuan Bajo Airport at a Glance
IATA Code:
LBJ
Web Site:
N/A
Distance to City:
3 km
Passenger Service Charge
Domestic:
IDR 10,000
(83,333,333.33 USD)
Counter Service:
IDR 1,000
(8,333,333.33 USD)

The tiny hill-top airport at Labuan Bajo is the primary gateway to the Komodo National Park, home to the world-renowned "dragons" - the world's largest lizard, as well as the rest of the sights of Flores, with many opportunities for the adventurous as well.
The airport isn't much more than a single runway with a small terminal building that has only the most basic of features. The arrival lounge doesn't even have a belt; your bags will just be set out on the floor.
There's a small snack bar outside the departure entrance, but other than that there are no other shops are services at the airport, and that includes an ATM. Be sure you have the cash for the counter and departure fees. This is the only airport in Indonesia where I've encountered a counter fee, which you pay on check-in.
For ideas about what to see and do around Komodo National Park, see the Asia for Visitors guide to Komodo.