Kuala Lumpur International Airport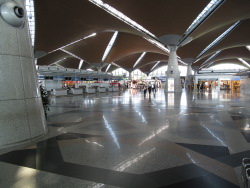 Kuala Lumpur International Airport at a Glance
IATA Code:
KUL
Web Site:
KLIA
Distance to City:
75 km
Passenger Service Charge
Domestic:
None
International:
None

Kuala Lumpur's ultra-modern airport (airport code: KUL) is located a fair distance from the city. The terminal is connected to the city via a high speed rail line that can whisk you downtown in around 20 minutes.
The airport complex consists of a massive terminal building connected to a linear concourse that mostly serves domestic flights. The main terminal is connected to a remote star-shaped concourse by an automated train. The satellite concourse serves international flights only. There's also a low-cost terminal serving budget airlines.
The main terminal building is on six levels, but most passengers will only have cause to use level three - arrivals - and level five - departures. The satellite consists of a single level plus a mezzanine around the central garden.
The low cost terminal was opened in 2006 and is all on a single level. It is 20 kilometers from the main terminal, and is connected by a bus service to the bus station in the main terminal. Since it's a completely separate terminal - almost like another airport entirely - see the special guide to the LCCT.
As of April 2009, the airport was undergoing significant rennovations, resulting in the closure of some shops.
For information about what to see and do in Kuala Lumpur, see the on-line Asia for Visitors guide to Kuala Lumpur.