Luang Prabang International Airport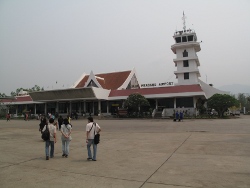 Luang Prabang International Airport at a Glance
IATA Code:
LPQ
Web Site:
N/A
Distance to City:
4 km
Passenger Service Charge
Domestic:
None
International:
None

Luang Prabang's tiny international airport is the gateway for many to the charming world heritage town.
The airport consists of just a single runway and the tiny terminal building serving both international and domestic flights. There are no sky bridges, but then most of the planes that land here have their own stairs and don't need such fancy contraptions.
The terminal building is all on one level, with arrivals and departures side-by-side. There isn't much to occupy you if you're early, or your flight is delayed (which seems common). There's just a small snack counter and a jewelry store just past immigration. There is a larger restaurant as well as a souvenir shop in a separate building.
For ideas on what to see and do in the city, see the Asia for Visitors guide to Luang Prabang.