Suvarnabhumi International Airport, Bangkok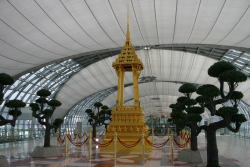 Suvarnabhumi International Airport at a Glance
IATA Code:
BKK
Web Site:
AOT
Distance to City:
20 km
Passenger Service Charge
Domestic:
None
International:
None

Bangkok's new Suvarnabhumi (pronounced "suwannaboom") International Airport opened in September 2006, after nearly 30 years of planning and much controversy. The huge glass and fabric structure is thoroughly modern in overall structure, but inside you will find many examples of Thai art and architecture to let you know you've arrived in the Land of Smiles. However, note that several bugdet airlines have returned to use the old Don Muang Airport (DMK). Check your tickets to make sure you end up at the right airport.
The single main terminal building is on five levels. See the terminal diagram for a clearer view. The basement level houses the airport link train station, while level one is where you catch a taxi and has a food court and convenience store.
The second level is the main arrivals level. Baggage claim, customs, and all transportation services can be found on this floor. You'll also find several bank exchanges and ATMs here.
The third level houses most of the restaurants and public access services, including a beauty parlor and massage service.
The fourth level is the main check-in hall for all domestic and international flights. At the back of the hall are a few shops, including a bookstore and post office. Immigration is also at the back of the hall.
The concourses are in an "H" or double-plus ("++") shape. See our Bangkok airport map for an over-all idea of the layout. There are seven concourses in all, lettered A to G. Concourses A and B are used for domestic flights. Concourses C through F are used for international flights. Concourse G is mainly used for charter and VIP flights.
Check for recent news about Bangkok Suvarnabhumi International Airport in our news feed. For information about what to see and do in "the big mango" visit the Bangkok for Visitors Guide.