Ubon Ratchathani Airport
Ubon Ratchathani Airport at a Glance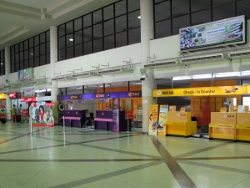 IATA Code:
UBP
Web Site:
None
Distance to City:
5 km
Passenger Service Charge
Domestic:
None
International:
None

The small provincial airport at Ubon Ratchathani is something of a holdover from the Vietnam war era. It used to host international flights, as a stop-over between Bangkok and Vietnam, but these didn't work out and international service has been suspended for several years.
There are several flights a day between Bangkok and Ubon. Air Asia also flies between Chiang Mai and Ubon. There's not much to see in Ubon itself, but many people fly through here on their way to Pakse and other parts of Southern Laos.
The terminal building is on two levels, but the second level is used only for offices. Departures and arrivals are side-by-side on the first floor.