Hotels Near Ngurah Rai International Airport, Bali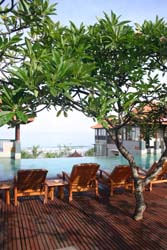 The Pool at the Mercure Kuta

There is no airport hotel at Ngurah Rai, but with its location right on the beach at the south end of Kuta beach, there are a wide range of accommodations available just minutes away.
Many people mistakenly assume that since the airport code is for the city of Denpasar, that the city is closest to the airport. In fact, Denpasar is quite some distance away, and doesn't have very many hotels as well. If you want to be near the airport on your way into our out of Bali, then you want to look for places in Tuban or South Kuta.
The list below is a selection of hotels we've actually stayed at near the airport. Among them, the Harris is the closest, and a rather nice hotel with a somewhat out of the ordinary 'retro' design. There are in fact very many hotels near the airport. You can view a list of all the hotels in Bali that can be booked online by name, price, class ('stars') or by district.
Stars
Hotel Name
Location
Rate


HARRIS Hotel Tuban
Tuban
From: $ 40
Harris Tuban is ideally located only 1 km or around 5 minutes from Ngurah Rai International Airport and Tuban beach. Also close to main shopping areas and night life spots as this hotel is only 10 minutes from Kuta Beach. This hotel is very simple but very nice. Offering facilities such as swimming pool, spa, and meeting rooms for maximum 60 persons in theatre style. Hotel also can help to organize tours and car rental are available in Harris Tuban. Rafting, Cycling and Mountain trekking can also be organized for those who are adventurous. (03/09CB). Modern type of building with fresh resort (More...)
Check rates for the HARRIS Hotel Tuban at Agoda.
Compare rates for the HARRIS Hotel Tuban at all on-line sites using HotelsCombined.


Ramayana Resort & Spa
From: $ 80
In the heart of trendy Kuta is the Ramayana Resort and Spa. Only steps from the shopping, dining, entertainment and activities which make the town famous, the resort accommodation provides an oasis of relaxation and calm in the middle of Bali's most exciting city. The Ramayana Resort and Spa is located at Jl. Bakung Sari- Kuta. Guests of the Ramayana Resort and Spa can choose from rooms, cottages and club rooms. All provide luxury quality amenities and include direct dial phones, large bathrooms, satellite TV, personal safes and mini bars among others. As a resort and spa, the Ramayana provides a complete (More...)

Review of Ramayana Resort & Spa
Check rates for the Ramayana Resort & Spa at Agoda.
Compare rates for the Ramayana Resort & Spa at all on-line sites using HotelsCombined.
Note: Unless otherwise noted, the descriptions shown here have been provided by the hotels. You may wish to treat them with some degree of skepticism. The base prices shown are provided by hotel booking sites and reflect the lowest rate they have on file. This is often the 'low season' rate for a standard room, and thus may not be available at the period you visit. The starting price should be used as a general indicator only.
Note: Visitors should be aware of the Balinese New Year (Nyepi), which occurs sometime between mid-March and late April. Nyepi is a day of silence, when restaurants are closed, taxis are off the streets, and people are supposed to remain indoors. Note especially that the airport is closed on Nyepi. There are no scheduled arrivals or departures on the day.