Business Lounges at Suvarnabhumi International Airport, Bangkok
As a major international air hub, Bangkok's Suvarnabhumi International Airport hosts business and first class lounges for almost all major airlines. The biggest lounges belong, naturally, to Thai Airways and are shared by other members of the Star Alliance such as United and Singapore Airlines.
Thai Airways Business Lounges
Thai Airways lounge for domestic passengers.

Thai operates six lounges at Bangkok's airport; five for international customers and one for domestic. Although they differ somewhat in size and furnishings, the features and facilities are generally the same. The largest lounge is on Level Three of Concourse D, with separate lounges for first class and business/gold card passengers. The smaller lounges are also on Level Three of Concourses C and E near the security checkpoint. The lounges offer light snacks, drinks, coffee and tea in an open buffet. Most lounges have free wi-fi internet access as well as at least some computers to use for those that didn't bring their laptops. However, there are few, if any, power points for you to connect your notebook to for a last minute power-up. Some of the lounges have smoking rooms as well as showers. There is also a spa with free services for first class passengers.
There is also a lounge on Concourse A for domestic passengers. Facilities aren't quite as extensive as they are for international passengers, but all the basics are there, including free wi-fi.
Louis Tavern Lounges
Many other airlines, as well as Priority Pass members, use the lounges operated by Louis Tavern. There are two of these in the international departures area. The lounges are located on Level Three.
Louis Tavern lounges feature transit hotel facilities, showers, massage and other services, usually available at additional charges. Other features are similar to other business lounges.
Bangkok Airways Passenger Lounge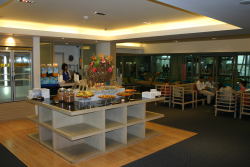 Bangkok Airways domestic passengers lounge.

One of the lesser-known perks for passengers of "boutique" airline Bangkok Airways is their lounge, which is open to all passengers, regardless of the class they're flying. The lounge for international passengers at Suvarnabhumi International Airport is located on level three of Concourse A, while the lounge for domestic passengers is on level two of Concourse A, opposite Gate A2. The comfortable lounges offers tea, coffee and juices to drink as well as light snacks. There are also a few internet terminals for free use. However, curiously, there's no wi-fi signal.
King Power Lounge
If you're a frequent visitor to Bangkok, you might already be a member of duty free operator King Power's discount program. Membership is free, but you need to visit the company's Downtown Duty Free mall near Victory Monument to join. Aside from discounts on duty free merchandise, the card also entitles you to free use of the lounge located on Level 4 at Concourse A. The lounge offers tea, coffee and juices to drink as well as light snacks. There are also a few internet terminals for free use.
Singapore Airlines Lounge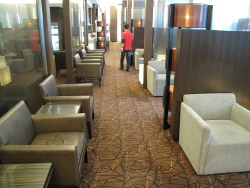 Singapore Airlines first & business class lounge.

Singapore Airlines maintains its own lounge far down Concourse A on Level Three. It's worth the walk, with a fairly good buffet, nice view of the park, and lots of power points. The only drawback is that the power outlets all take the three-pronged UK style plugs. Of course, if you're going to Singapore, you should have an adapter for these anyway.
There are also several computers to use, in addition to the free wi-fi. About the only drawback is that the lounge does not have a rest room of any kind. The nearest bathroom is a ways away.