Departures from Samui Airport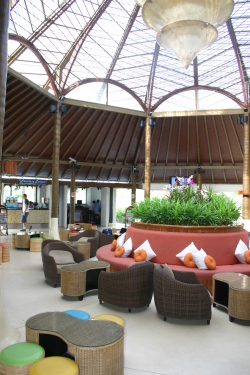 One of several comfortable departure gates at Samui airport.

You may not want to leave Samui, but you'll probably still want to get to the airport early. Not because navigating the airport is at all difficult. On the contrary, Bangkok Airway's Samui Airport has so much to see and do, you'll want to give yourself time to see it all.
Your transport will drop you off in front of the departure check-in building. Only ticketed passengers are allowed into the building. Follow the signs to find the check-in counters for your airline. Worth noting: the ticket office, next to the check-in building, has a number of ATM machines in front of it, in case you forgot to save enough cash for the international departure tax - or need some money for shopping.
After checking in and getting your boarding pass, you then exit the check-in building, turn left, and follow the signs to the departure gates. To get there, you'll need to walk through the all new (July 2008) shopping arcade, featuring such quality Thai brands as Jim Thompson, as well as several cafés and restaurants. If you're short on time, there are electric carts to send you to the departure lounges in a hurry.
Once you manage to tear yourself away from the shops, you then enter the departure halls. Of course, you need to pass through security to get into the departures area. Remember, the liquids, aerosols and gels rules apply at Samui. Once past the security screening, you'll find some very comfortable gate lounges with, if you're traveling on Bangkok Airways, their trademark complementary snacks and drinks.