Shopping & Dining at Samui Airport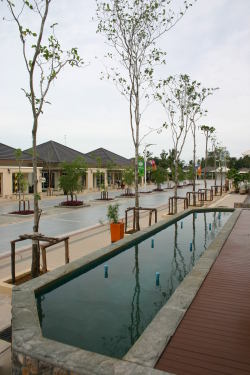 The new Samui Park Avenue shops at Samui Airport.

Until recently, there wasn't much in the way of shopping at Samui's airport. That all changed in July 2008, when the all new Samui Park Avenue shopping arcade opened at the airport. The open-air arcade stretches between the building where you check-in for departing flights, and the entrance to the gate lounges. The arcade consists of two buildings lining a wide boulevard.
Among the shops are some of Thailand's best-known brands, such as Jim Thompson Thai Silk, Harnn and Thann spa products, and Bookazine. There are also many food options, such as Whittard of Chelsea, The Taste, and many others. Lastly, if you really have time, there's a massage service offering quick foot massages and more.
Within the secure area of the departure lounges, there's a couple of snack bars and souvenir shops.