Seletar Airport, Singapore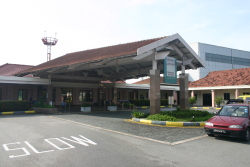 Seletar Airport at a Glance
IATA Code:
XSP
Web Site:
Selatar Airport
Distance to City:
20 km
Passenger Service Charge
Domestic:
N/A
International:
None

Tiny Seletar airport is almost the exact opposite of the world-renowned Changi. The airport was originally built by the British shortly before World War II. After the war, the Royal Air Force continued to use the base, and turned it over to the Republic of Singapore after independence.
The airport today is primarily a general aviation facility, and home to the Singapore Flying Club. The only scheduled airline using the airport is Malaysian Berjaya Air for flights to Tioman and Redang Islands in Malaysia.
The airport has almost no facilities to speak of. There are no shops at all, and the only place to get anything to eat is two drink vending machines. There are no VIP lounges, left luggage rooms or other services.
Due to the lack of facilities, you might consider arriving at the airport only two hours or so before your flight. Also be very careful to check your departure time with Berjaya within a few days of your flight. They have been known to change departure times without telling anyone.